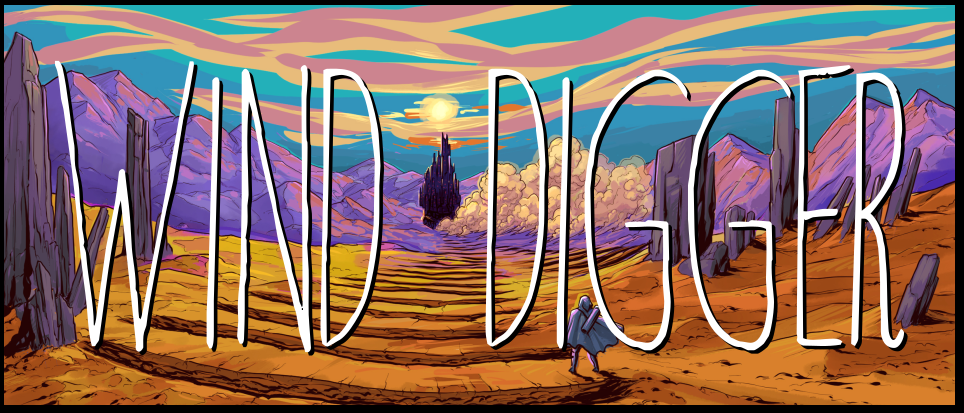 Wind Digger
A downloadable game for Windows
OVERVIEW

Wind Digger is set in a post-apocalyptic parallel world, where advanced civilizations thrived and flourished before their destruction by the Allstorm, over 150 years ago.
Raised in a distant city-state where the military has been in power for more than a century, the main character fled in a military truck and spent a year roaming the toxic wastes of the south. He befriended the local tribes, customized his truck and discovered an unconventional AI living in the vehicle's mainframe.
Now newly recruited in a loose union of mercenary explorers - the Wind Diggers - our hero is a loner among this group of loners, speaking very rarely and almost only to his loyal but uncaring AI companion.
Recently hired for an unusual contract, he just arrived at the target location: an abandoned Windrose outpost built on the edge of an ancient pre-Wind city.
CURRENT FEATURES (and scope for this release)
First level of the game is complete with basic tutorials, light combat, platforming, narrative and puzzle-solving

Introduction to the world and overarching game story


2 characters, 2 enemy types and 1 "boss"

Original and intriguing post-apocalyptic environments


Unique art style mixing 2D sprites and 3D models
POTENTIAL FUTURE FOR PROJECT
Linear narrative in an open-ended game experience

Player choices with permanent impact on the world, making each playthrough unique

20+ locations to explore
50+ unique characters to discover and interact with
30+ Artifacts to find and influence the world with
40+ enemy types and bosses
10+ hours of gameplay
ABOUT DEVELOPMENT
Dream Grenade Games was founded by Game Design students Jordan Funk & Jean-Luc St-Pierre. The studio is currently working on a vertical slice of their first title, Wind Digger, as a final school assignment. The project is being made available to the public for Beta testing to gather feedback and help make Wind Digger accessible by players of all skill levels. The final gold build will also be available when finished.

Your honest feedback and suggestions are very much appreciated and will help shape the final quality of this project, and potentially shape the direction of game development in the future!
Thank you for taking the time to play our Beta demo! Follow our development on Twitter or our website:
https://www.dreamgrenade.com/wind-digger
https://twitter.com/DreamGrenade
Dream Grenade Games is:
Jean-Luc St-Pierre - Lead Game & Narrative Designer, Producer, 2D Pixel Artist
Jordan Funk - Programmer, Game Designer, Assembly, 2D Pixel Artist
Eli Galvez - 3D Modelling & Texture Artist
Frank Castel - Illustrator

Annie Huylenbroeck - Composer
******* ATTENTION ****************************************
This build is currently in its BETA phase. Some assets are unfinished, and you may encounter some bugs or unpolished features. As well, the mac version was unstable and has been removed for the moment. If you do encounter any issues, especially game-breaking ones, we would love to know about them!

Please take a minute to fill this quick survey and share your thoughts with us:
https://www.surveymonkey.com/r/W3L92FT

Thank you and may you always move with the Winds.

Dream Grenade Games

*************************************************************
Download
Install instructions
Download and decompress archive, then launch WindDigger-Demo application.

Comments
Log in with itch.io to leave a comment.
Keep up the good work, I tested your game! good job